Meditation is kind of like pooping. Both require copious amounts of sitting and both relieve the constipation of, well, stuff. You just feel so much more relieved after a good meditation session. And I don't know about you, but when I meditate, I come up with answers. A-ha moments abound just like the a-ha ideas that seem to happen when I'm in the bathroom, particularly while I'm shitting.
Here's the part where I should research some links to show that I know what I'm talking about, and a-ha moments really do happen while you're in the bathroom (taking a shit, or taking a shower), and I'm not just a crazy person. But trust me on this one. I took a "psychology of creativity" class in my college years. I know all about Mihaly Csikszentmihalyi, leading psychologist of "happiness" and flow that you experience in a creative state, just so I can name drop something impressive that you don't know how to pronounce even worst than Chris Guillebeau (I know, I'm so psychic right?) ! The point is, I gots my shit straight! And I'm too lazy to look up useless links that no one clicks through anyway.
No ones perfect. So that's why I meditate. But when I say "meditate" I really mean that I don't meditate but I should. Or I want to more. Or I know that I should make it a habit, but I haven't. Just call me lazy. So lazy, that I'm too lazy to sit.
That's why I signed myself up for a Vipassana meditation retreat. For those who are unfamiliar, if you think 30 minutes of sitting is too much for our short 21st century attention spans, try sitting for the whole day. If meditation were a sport, Vipassana would be the marathon version that hardcore athletes do. Indeed, once you try Vipassana, most become die hard advocates of the technique. Said to be the most direct teaching of Buddha, with no frills sect worshipping, bowing or mala beads involved, Vipassana attracts many spiritual seekers of all ages, cultures, and ideologies. It is a 10 day silent meditation retreat that teaches you to "see things as they really are". All you do is sit. Just sitting. Participants are not allowed to exercise or do yoga although I observed some of my co-meditators striking a pose
"If you want to learn networking, go to Vipassana," my boyfriend, a Vipassana veteran whose gone to over 10 retreats, told me. I didn't get it. How can you network when you vow to be silent for 10 days? His point was that many successful business people often take the retreat to balance their work life and learn how to cope with the stress. It's a smart move. Even Colin Wright, serial webpreneur of Exile Lifestyle and e-bookling fame, told me he was insanely jealous of my first meditation retreat because he's always wanted to do it and he's always wanted to shave his head, too (note: if you really want it, just do it). Maybe my boyfriend is on to something here. By the last day, when participants are allowed to break the silence, many people connect, discover who their co-meditators are, and continue it over to Facebook. Vibrations resonate at a higher level, synchronicity soars, and life is beautiful. Then, reality sets back in.
Breaking My 'Vipa' Cherry
I attended my first Vipassana retreat at the beginning of March in Cavite, Philippines. Having had only one night's reunion with my boyfriend after visiting my family in Cebu for two weeks, I wondered how I was going to manage another two weeks of breaking my Vipa virginity, yet vowing more celibacy. For 10 days, I would live as a monk, again. My first exposure to meditation was only last year when I attended a four month meditation retreat at a Zen monastery. For four months, we meditated every day for half an hour. For someone who didn't continue the practice, I wondered how I was going to survive 10 days of Vipassana with a grueling sitting schedule from 4am to 9pm.
At the monastery, I was taught to literally visualize rotting skin and decay, or dead, sick puppies to cure impure sexual thoughts. Yes. I shit. You. Not. So when I tried to focus on my breath, and the area around my nose, as the Vipassana instructions told me to do, my mind would quickly flash to naked bums and sensual ecstasy. Well, you get the idea. I wasn't about to distract myself with dead fetuses or sick puppies. I mean, that would be gross. I found myself unable to concentrate a lot. Sometimes spacing out completely and going to this "no mans land" in my head where there's no thought, just blank space and I wonder to myself if I'm sleeping or not. Sometimes back to sensual ecstasy. Rarely going back to the breathe. I found myself being this Vipa slacker who mentally checked out, and felt like I was in a mental hospital because of it! Vipassana was like one of those hard-to-get movies that you don't understand until the 2nd or 3rd time you watch it again. And lets just say… I don't have a TV. I haven't been watching. Save for the occasional trips to an informal Vipa meditation group in Manila, I haven't been continuing the practice. And, I feel guilty. Because it's not like I don't have time.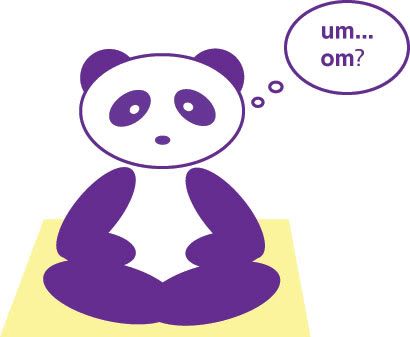 Why I'll Sit
Today is the start of another Vipassana retreat in Cavite. I haven't signed up but I am mentally telling myself to start the practice again. No excuses. I'll admit, I'm not good at keeping up with things and I lack discipline. I can't keep up with writing daily. I can't keep up with writing consistently on this blog. I can't keep up with meditation. But that's exactly why I should. Meditation teaches you how to Focus, and when my life feels so scattered without stable work, and without a daily schedule, I can't seem to pick up the organizational pieces and get organized. Imagine concentrating a magnifying glass on a piece of paper until it catches on fire. You have to stick with it long enough for the fire to start. That's what meditation is like. Starting sparks and getting inspired. Helping you focus. Imagine the creative output! Imagine the success.
I'm announcing this new daily commitment in "public" to keep myself more accountable, since anyone who reads this definitely waits with baited breathe for my updates (if you can't tell, that's sarcasm), and the internet revolves around me (lets face it, we're all narcissists here, especially us "Lifestyle Design" millennials).
I have to admit, there are some days I feel like giving up. On those days, I can't possibly understand how I could make working for myself work. The reason why I live the way I do isn't just because I ran out of resources and let my money dry, but also because I knew if I lived in a way that allowed me to quit easily with no real consequences, I would probably do it. I have put myself in a situation where I have no choice but to keep on going and keep on "failing forward". Quitting is not an option in the ghetto, and I have the space to facilitate growth, I just need to do so more wisely. More forcefully! That means magnifying and firestarting.
Speaking of starting fires, in a synchronous sort of way, Danielle LaPorte is offering her SPARK Kit (previously known as The Firestarter Sessions) for any pay what you can donation until the end of the 25th only. I saw her message on twitter before the special ended and have purchased my copy. I've been wanting this e-book (and more) since she first came out with it and wasn't able to do her first pay-what-you-can offer. Meditation + SPARK Kit will be a great duet that I will update (with baited breath) on this blog.
Lets start some fires!
---
If you'd like to learn more about the international Vipassana retreats, go to
http://www.dhamma.org